Report given by Vladimir Andreevich Adolf

Vladimir Andrevich Adolf, born 1949.
One day in July we went to the village of Cheremushka, which is situated 17 km away from Karatuskoe. On the way it began to rain hard, so that we already feared that we might not be able to carry out the planned interviews. But in Cheremushka the weather conditions improved, it stopped raining, the summer sun appeared and it got warmer.
Our interview-partner Vladimir Andreevich Adolf was born in Siberia. His mother – Amalia Friedrichovna (born 1912) – told him very little about former life at the Volga, from where she, as well as all the other Germans, was deported in September 1941; nonetheless, a few memories of his mother have retained in Vladimir Andreevich's mind as well. His mother was deported from the big village of Warenburg (more than thousand farmsteads). Opposite there was the town of Engels, where they used to go by boat during the summertime. The mother recalled that "the granaries were filled with cereals up to the roof. We owned a couple of cows and horses. We had to leave everything behind: our fields, the cattle… We were forced to board a barge and were then taken away".
They arrived in the Krasnoyarsk Territory in the autumn of 1941. First they were taken to Abakan station by train; from there they were sent to the village of Novorozhdestvenka in Karatuskoe district. Afterwards they were transferred to the village next to the farmstead, where our interview-partner and his mother lived until 1958. The mother brought up four children; three of them were already born in Siberia. They tried to mobilize Amalia Friedrichovna into the labor army, but at that time she still had Little Victor on her arms, so that the Military Commissariat finally cancelled the draft.
His mother worked for a pig farm ("she had to take care of 450 pigs alone"); later she had a job as attendant of the bath house and cleaning woman. "We went to school with her and then sewed firewood – two cubic meters every day" – Vladimir Andreevich recalls. Two cubic meters, and we received 80 rubles for our work. Mother would chop up the wood, and I carried it over to the shed. We received 80 rubles at that time!"
The Germans could not speak Russian at all. During the first, the worst hunger crisis they exchanged their clothes and other objects which they had brought along from the Volga against foodstuffs at local residents. "Among our belongings were ten-wick kerosene lamps. We went all the way up to Suetuk and exchanged everything we had: cushions, just everything".
Vladimir Andreevich's grandfather – Friedrich Friedrichovich – and other relatives from the mother's side were deported to Novosibirsk region. From there his father was mobilized to the labor army in 1942. He worked in a mine, where he was buried alive twice, "but survived". The mother did not have any news about the whereabouts of her family members. The grandfather could not find his daughter until 1958. Vladimir Andreevich believes that "they intentionally resettled the Germans in places situated so far away from each other, in order to avoid their being in contact."
Vladimir Andreevich still recalls a few things from his childhood quite well. At first the Germans were quartered in the houses of local residents, later in barracks, where the German children plotted the following: they pilfered from baskets, which hung right below the ceiling, dried ring-shaped pastry and other kinds of cookies. He also remembers the green velvet school suit, which had been sewn for him to grow into, so that he could wear it for a longer period of time. And he recalls the commandant "in his dark-blue uniform": "Once in ten days he would appear in the village. Everybody had to go to him and get registered, the whole family. He carefully checked, whether everybody was present. The re-settlers were never allowed to leave for Karatus without special permission of the commandant. Generally nobody was allowed to leave the village at all". Vladimir Andreevich remembers that the commandant stayed in one of the houses for a couple of days and that he "walked about".
After Stalin's death, in the second half of the 1950s, all Estonians left for their home country ("they bundled up their belongings in a hurry and left"); there were "a great many" of them in the village. In the 1960s a lot of German villagers went to Alma-Ata and then, in the late 1980s and early 1990s, emigrated from Kazakhstan to Germany.
In the1980s the Germans from Cheremushka had the burning desire to return to the Volga; there were rumors about the restoration of the German Republic. They visited the village of Warenburg, found their former house, but it was already occupied by foreign people. Hence, they did not follow up their intention any longer.
Vladimir Andreevich is still keeping a Bible from his mother, which she brought along from the Volga at that time. "I guard it carefully. It is written in Gothic letters… I am not familiar with these letters, but the father-in-law used to read it". "I also remember a jar, similar to a flower vase; it was made of clay, and it had also been brought along from the Volga".
Our respondent admits that sometimes German meals were cooked at home: kreppel (doughnuts; translator's note), strudel and others.
Vladimir Andreevich does not speak German: in 1950 everyone in his neighbourhood spoke Russian. "And actually we were not allowed to speak German at all – says Vladimir Andrevich. They insulted us and called us "fascists". If we had spoken German they probably would have butchered us. They would not permit us to use our mother tongue". Nonetheless there were friends among the Russians. Especially among young people there were no serious differences anymore. You would no longer notice "who was Russian and who was German". The adults every now and then still took the liberty of abusing each other, but the youth – did not.
Having returned from the army, Vladimir Andreevich got married to the German girl Iraida Viktorovna Schwengel; the couple brought up two children. He worked for many years as head of the local authority of economics. With a lot of pain he talks about the collapse, the ruin of the village, which took place in the 1990s.
When masses of Germans began to leave from Russia to Germany, Vladimir Andreevich did not want to join them: he is not able to speak German. Although 37 people from the neighbor village left at once ("the village became deserted"). Every year those who left for Germany at that time, return to Siberia for a visit, "to their native soil", as Vladimir Andreevich calls it.
The interview was recorded by Marina Konstantinova and Yelena Sberovskaya.
08.07.2016, village of Cheremushka, Karatus district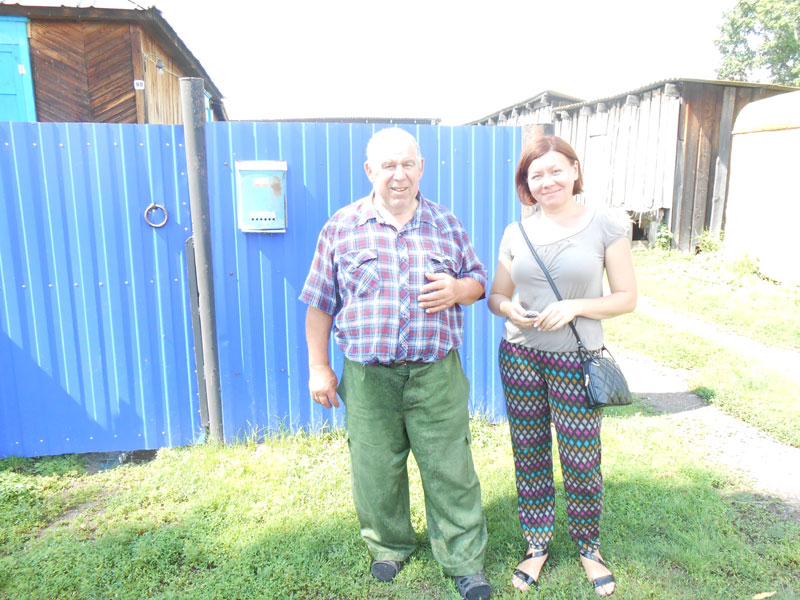 V.A. Adolf and Marina Konstantinova
Expedition of the V.P. Astafev State Pedagogic University Krasnoyarsk and the Krasnoyarsk "Memorial"-Organization on the project "Anthropologic turn in social-humanitarian sciences: Methodology of field research and practical experience in the realization of narrative interviews". (Sponsored by the Mikhail-Prokhorov Foundation).
---