Report given by Alexander Friedrichovich Eisner

Alexander Friedrichovich Eisner born 1951.
Alexander Friedrichovich's family was deported from the Volga to the Krasnoyarsk Territory in the autumn of 1941 and was taken to the district of Turukhansk to work for the commercial fishing industry in 1942. This is the place, where our interview partner was born. The father was working for the fishing industry on the Yenissey, the mother had a job with the bakery. Alexander Friedrichovich practically has no memories of the family's life in the far North, and his parents did not talk a lot about this specific period.
In the middle of the 1950s they moved to Karatus district where the big Eisner family was quartered in some cattle shed about seven kilometers away from the village of Sagaiskoe. The father tended sheep, the mother helped him – Alexander Friedrichovich's sister and the two brothers attended school in Sagaiskoe. "Father took them there by horse cart, and when school was over, they went home on foot". Late in the 1950s they moved to Sagaiskoe, and Alexander Friedrichovich started school, too. Afterwards he took courses and made a professional training to become a mechanisator (technically qualified person in Socialist agriculture and forestry; translator's note), after which he served two years in the army. After demobilization he returned to the Karatus district and got married to a girl from a German family – Rosa Schwabenland. Many years he worked as a tractor driver in the village of Sagaiskoe. A couple of years ago, when applying for his pension, clerks of the local administration remarked: "There is just one entry in your work book – commencement of employment and retirement". At work Alexander Friedrichovich was offered many incentives: he received certificates of honor and travel vouchers. He was awarded prizes such as a motorbike, later a car ("Moskwitsch"). The Eisners recall that there were numerous best workers among the Germans on their kolkhoz farm.
At home the Eisners used to speak Russian, for the mother was Russian – she had already married Friedrich Eisner when they were still living at the Volga.
Alexander Friedrichovich's parents spent all the rest of their life in Sagaiskoe. In the 1990s the father's sister left for Germany trying hard to convince the Eisners to also moving there. The elder generation, however, as well as Alexander Friedrichovich himself refused. Our interview partner explains this attitude in just a few simple words: "We got accustomed to everything here; why should we then leave? "
The interview with Alexander Friedrichovich Eisner was held by Marina Konstantinova and Yelena Sberovskaya.
Village of Sagaiskoe, Karatus district, 05.07.2016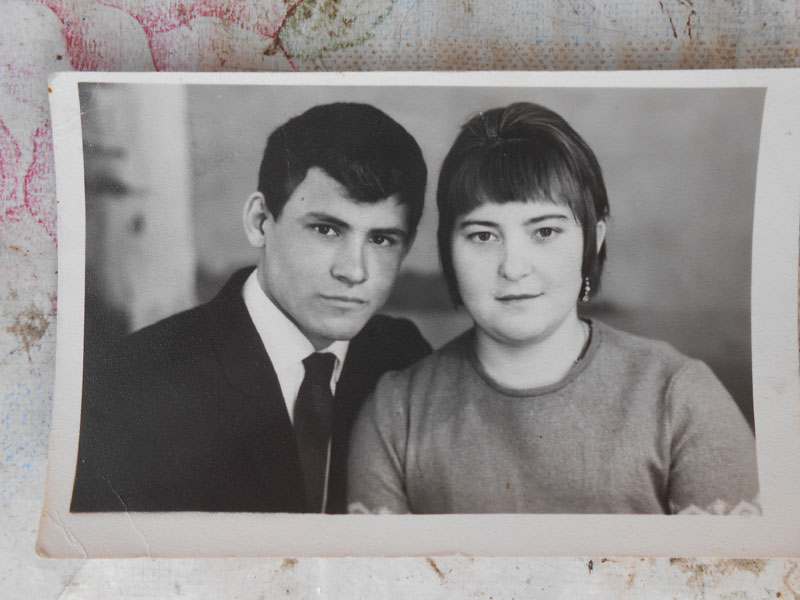 Rosa Danilovna with her husband Alexander Friedrichovich in the 1960s.
Expedition of the V.P. Astafev State Pedagogic University Krasnoyarsk and the Krasnoyarsk "Memorial"-Organization on the project "Anthropologic turn in social-humanitarian sciences: Methodology of field research and practical experience in the realization of narrative interviews". (Sponsored by the Mikhail-Prokhorov Foundation).
---