Are they going to erect a Stalin memorial in Krasnoyarsk?

The municipal RF Communist Party Committee directed an enquiry to the mayor asking for the possibility of getting back the Leader of the Peoples
The main sculpture of Yosif Vissarionovich stood opposite Stalin's little reconstructed house, on Ada-Lebedeva Street (in the place where, up to this day, the other Leader of the World Proletariat, Vladimir Ilyich, is sitting on his plinth). The 20th Party Congress of the USSR Communist Party initially expelled all the Stalins from the city center to the suburbs and then transported them away like prisoners: to let them either serve as a "reserve" for museums or become refounded.
However, many adorers of this cruel leader still exist in Krasnoyarsk nowadays, and history, in fact, remains history, the more since the number of memorial stones and statues in our city center is continuously growing year by year – with an arithmetic progress.
On the occasion of the 70th anniversary of our region the municipal RF Communist Party Committee directed an enquiry to the mayor, asking for the possibility of reviving the Generalissimo by force of the law. Late in September the First Secretary of the Municipal Committee, Vladimir Bedarev, consulted with his companions and, after having examined the public opinion among his party comrades, sent the collective decision of the municipal RF Communist Party Committee to the acting mayor, Vasiliy Kuimov, asking him to assign an appropriate place for the erection of a Stalin memorial. Though the paper was examined and discussed about in the appropriate administrative department, it was not answered clearly and in round terms at once. It, in fact, contains a hint on the imperative necessity of questioning the people first.
During this time Bedarev becomes very active, and rather soon sympathizing citizens, such as former veterans or the chairman of the All-Russian Women's Association, in the true sense of the word, lavish a flood of letters and appeals on the mayor, asking him to permit the revival of the Leader.
As we know from a good source in the administration, the erection of a memorial is merely a matter of time. If they really decide to have this memorial built, then Krasnoyarsk will be the first city in the country disposing of a memorial in honor of the Father of the Peoples.
By the way, the Communists have exchanged from theory to practice: they have already found the memorial themselves – some dusty bronze "gentleman", who had obviously fallen into oblivion at the Krasnoyarsk Museum of Local History and Geography.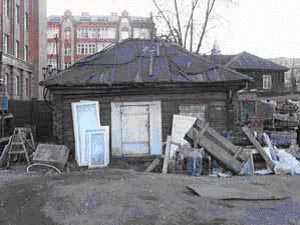 Photo by the author
Valeriy Pashkov
"Komsomolskaya Pravda" – Krasnoyarsk, November 6th, 2004
---