Alarming news around Stalin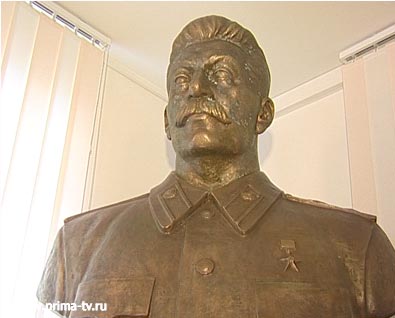 In the region of Krasnoyarsk they intend to build a memorial to the honour of the leader for the first time in modern history. And, strangely enough, the initiative for this project does not come from the Communists, but from businessmen. Exactly one year ago, the "Reds" did not suceed in realizing the putting up of a Stalin bust.
Yevgeniy Pashchenko, counsil of the governor, does not number himself among Stalin's adherents, although he is the brother of a popular Communist. The plans are of a pure commercial nature. The memorial is to be erected in the fishing village of Kureyka in the district of Turukhansk, where the leader spent a couple of years in internal exile. Pashchenko intends to realize this project as a means to develop tourism within the region. Historians, in fact, confirm that the original monument was five meters in height. It was built by prisoners of the GULAG. Stalin's statue stood on the banks of the river Yenisey, close to the pantheon, which nowadays is completely destroyed. Later the leader was thrown into the waters of the Yenisey, including its huge pedestal. Members of the "Memorial" organization are convinced that any attempt to reconstruct the Stalin monument means a deep insult and hurting of the feelings of the 60.000 victims of political reprisals living in the region of Krasnoyarsk. They are of the opinion that all actions connected with Stalin must be postponed by half a century. As Aleksey Babiy, chairman of the regional "Memorial" organization says, "the moratorium has to be postponed by 50 years, until we are all dead, and when our children then think all this to be important and necessary, just let them build the monument".
One year ago the erection of Stalin's bust in Krasnoyarsk had already disturbed the people and frightened them considerably. In spite of a negative reply by the authorities, the Communists nevertheless dared to present their statue in quite a scandalous way. They had been collecting money fore more than one year, in order to have abronze bust casted. 320 kgs of bronze were needed to finish the bust. The leader is now standing modestly in one of the corners of the town's committee of the Communist Party. Hardly anybody takes any notice of him there. The question about whether or not Stalin's statue will be re-erected on the banks of the Yenisey has not been decided yet. Up to this day the authorities have not given their final "OK".
Liudmila Ganzhurova
prima-tv.ru 19.04.2006
---