Settlement of Motygino. Memorial stone in commemoration of the victims of political repressions

Monuments and memorials for the victims of political repressions in the Krasnoyarsk Territory and the Republic of Khakassia
Motygino District
Settlement of Motygino. Memorial stone in commemoration of the victims of political repressions
The history of our district is intrinsically tied to the history of our country. All this happened in Russia and used to have consequences to our little home village and always became noticeable. Stalin's political mass repressions in the past century were no exception, either.
Several waves of political repressions were rolling through the country. Their victims got scattered all over the region, and a part of them ended up in our district.
The arrested persons were charged with common criminal offense and political misdeeds. Those who had been accused of common crimes were sentenced to deprivation of freedom in corrective labor camps, while the sentence for political prisoners was one of "maximal penalty". All persons under arrest were hauled away by police and taken to Yeniseysk prison. Hundreds of thousands of people were hold in camps. Hundreds of repressed individuals from Motygino District were executed in Yeniseysk prison.
Middle of the 1950s the situation started changing, and the exiled were given the possibility to return to their home towns and villages.
In 1991 the government passed the Law of the Russian Federation "About the rehabilitation of victims of political repressions"; a commission for the restoration of the rights of rehabilitated persons was organized.
In June 2008 a memorial stone in commemoration of the victims of political repressions was put up in the name of the villagers – on top of the Red Hill, in the settlement of Motygino, on the right banks of the river Angara, just between the mass grave for partisans, which were killed during their fights against Koltchak's army, and the memorial erected to the honor of soldiers killed during the Great Patriotic War.
The stone represents the moment of magnesite cristallization, it is of a light-grey color and has a sharp-edged upper edge. Its fundament has a size of 1,5 x 0,9 m. The stone comes from an opencast pit in Kirgitya.
The idea to put up a memorial stone in this place comes from N.I. Pasynkov (head of the administration of the settlement of Motygino until bis 2009) and V.P. Stepov (chairman of the Deputees' Council of the settlement of Motygino). The material for this little memorial place was provided by the "Rasdolinsk Periclase Factory" ("Siberian Magnesite") – director Gusev. Transportation up to the settlement of Motygino was guaranteed by the general director of "Teploset Ltd.", G.M. Danilova.
On the 30th of October, the official memorial day for the victims of political repressions, the inhabitants of the settlement lay down flowers and light candles in commemoration of the perished.
Text: Galina Pavlovna Burtseva, curator of the funds of the Museum of Local Lore in Motygino.
Photos: M.G. Sakhartsov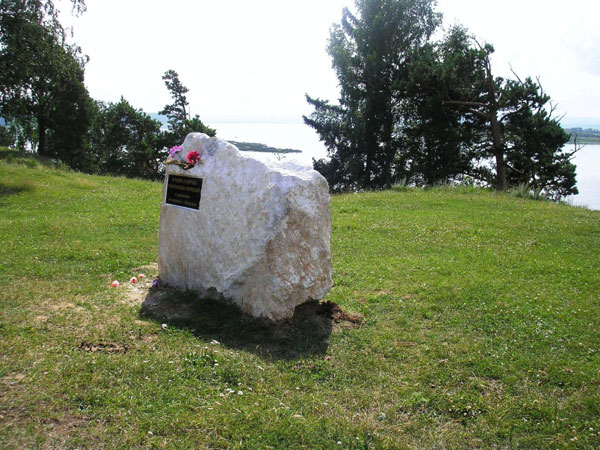 ---